Every hunter will agree with the basic sentiment that you can't hunt what you can't see.
Binoculars are often mistakenly thought of as outdated technology, but this couldn't be further from the truth as a great pair of binoculars is a vital hunting tool that could very well mean the difference between a successful hunt and an unsuccessful one.
Whether you're identifying prey, locating risks, scouting terrain or simply taking in the incredible scenery around you, the uses of binoculars vary.
ATN has taken the classic and timeless idea of binoculars and turned them into a technologically advanced piece of equipment that the modern day hunter cannot go without.
Founded back in 1995, ATN is a leading Tech Optics company based in San Francisco that is proud to be revolutionizing the industry, one piece of optic equipment at a time.
With over two decades of experience under their belt, it is no wonder that today they are the dominating developer of optics for day & night operations.
In addition to smart binoculars, ATN is also a leading manufacturer of thermal binoculars, monoculars, rifle scopes and thermal scopes.
ATN Binox 4K 4-16X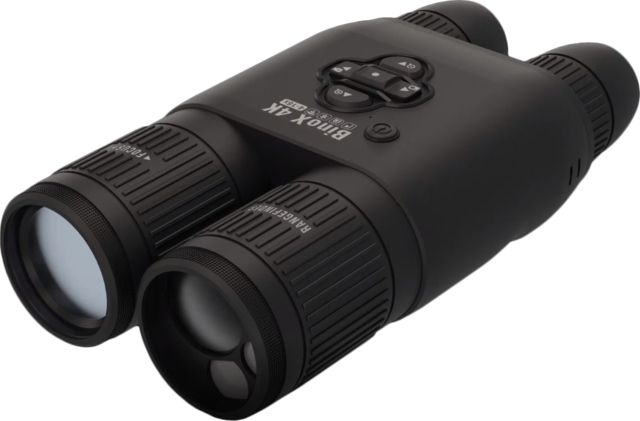 ATN BinoX-4K 4-16x65 Smart Day/Night Binoculars, Laser Rangefinder, Black, DGBNBN4KLRF - $899.00
Retail Price: $904.15
You Save: $5.15
from:
OpticsPlanet, Inc
The ATN BinoX 4K 4-16X is a day & night smart binocular that utilizes cutting edge technology to enhance the hunting experience.
When you combine technology like BIX, laser Range finder and E-Compass with WiFi Dual Streaming, Smooth Zoom and a 15-hour battery life wrapped in a compact design, you get the BinoX 4K 4-16X.
Included in your purchase of the ATN Binox 4K 4-16X is a soft carrying case, neck strap, USB-C cable, lens cover and lens tissue.
Product Dimensions and Specifications:
Sensor: ATN 4K M265 Sensor 3864 (H) x 2218 (V)
Magnification: 4-16x
Field of view: 220 ft
Display resolution: 1280x720 x 2
Eye relief: 10-30 mm
Focus range: 10 ft - Infinity
Laser range finder
Ballistic Information Exchange
IP rating: Weather resistant
Micro sd card
Charging: USB type C
Weight: 2.5lb
Dimensions: 9.4" x 5" x 2.6"
Features of the ATN BinoX 4K 4-16X
The ATN BinoX 4K 4-16X day night binoculars are jampacked with exciting features that make this product stand out from the rest. The most notable features of the BinoX 4K 4-16X include:
Night vision mode
Laser Range finder
IR Illuminator
BIX
Video recording and streaming functionalities
Night Vision Mode
ATN's night vision optics are renowned worldwide and the night vision mode featured in the BinoX 4K does not disappoint. Utilizing Obsidian Core technology, coupled with a cutting edge 4K Ultra HD Sensor (600 lp/mm) and Dual Core Processor - this product literally allows you to see in the dark and equals the playing field between hunter and prey.
Laser Rangefinder
Using the built-in E-Compass combined with the Laser Rangefinder technology, you can now accurately see in both day & night settings, range your target with precision and know with certainty how much distance lies between you and your prey.
IR Illuminator
ATN has greatly improved the IR strength in the BinoX 4K 4-16X, so you can enjoy better range in complete darkness and appreciate the significantly improved performance.
BIX Technology
The use of Ballistic Information Exchange (BIX) technology facilitates the exchange of information and aids efficient communication between ATN SMART HD devices. Essentially this advanced technology allows systems to communicate and exchange information to enable a shooting solution that eliminates hold over.

If you'd like to transmit the range data via Bluetooth all you need to do is activate the advanced setting in your BinoX 4K 4-16X, select Broadcast LRF and press the "on" button. If you don't have a smart scope yet, you can use the same Ballistic Information Exchange BIX capabilities with a traditional glass scope or through ATN's Laser Ballistics app.
On Board Video Recording and Streaming Capabilities
Capture your prey and your experience at the same time! With the full 1080p HD video recording offered by the BinoX 4K 4-16X you can now capture every moment in stunning detail. There is no need to be running around with cables or devices. Simply insert your micro SD card in the designated slot.
Thanks to the Dual Core Processor, your family and friends can now join you on your hunt from the comfort of their home or tent. Live Stream via Wi-Fi to mobile devices while recording seamlessly without any worry of lag or performance loss.
Battery Life
You definitely don't need to worry about your battery running low when you're using a BinoX 4K 4-16X! Boasting 15+ hours of battery life on a single charge, the days of worrying about your battery dying mid-hunt are now over and you can go on long hunts with peace of mind and a confidence in your equipment.
Charging the battery is simple. To charge your device simply locate the built-in USB port found under the rubber cap, plug the included charging cable in the port and plug the cable into a standard USB wall charger. The average charging time from 0-100% using a 2A USB charger is 6 hours.
Warranty
ATN is confident in this product and it shows. The BinoX 4K 4-16X day night binoculars are guaranteed to be free from manufacturing defects in material and craftmanship under normal use for a period of 2 years from date of purchase. With this 2-year warranty comes a peace of mind like no other.
It goes without saying that every hunter needs a good pair of night vision binoculars and you'd be hard pressed to find a pair better than the ATN BinoX 4K 4-16X day night binoculars.
Why not take your hunting game up a level by adding the BinoX 4K 4-16X to your arsenal of hunting essentials?